In 1994 Mack Goldsbury and I decided to put together a co-operative group. At that time guitarist Frank Möbus and bassist Ed Schuller were our partners. We released our first CD, "At night when you go to Sleep" (Phonector) in 1996
Photo : Reinhard Müller
Trumpeter Herb Robertson moved from New York to Berlin, and since he had already played a lot with Mack and Ed when they were all living in New York, we invited him to join us. Our second CD, "Next Move" (BEV-Records), with Herb as Guest, followed. Meanwhile, Ed married and returned to New York, and Frank decided to concentrate on his own group, "Der Rote Bereich" and his recording projects with ACT records.
That left us free to experiment and led us directly to Hammond B3 organist Matthais Bätzel. A new quartet was formed - and a new CD was recorded: "A-Live at the A-Trane" (Konnex Records).
Later Herb Robertson moved back to New York and ever since the instrumentation of the Quartet constantly changed with:
Herb Robertson - trumpet
Wilson de Oliveira - sax
Rolf Römer - sax
Frank Möbus - guitar
Önder Focan - guitar
Karl Schloz - guitar
Matthias Bätzel - hammond B3
Reggie Moore - piano
Ed Schuller - bass
Martin Lillich - bass
Stefan Weeke - bass
the current Band :
Mack Goldsbury - reeds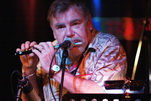 Saxophonist and flautist Mack Goldsbury was born in Texas, and lived and worked in New York for many years. He moved to Berlin in 1992, and has since made it his permanent residence.
A professional musician since he was 17, Goldsbury has contributed to been involved in) a large number of CD productions. The borderline between jazz and pop has never gotten in his way: he has worked with such pop stars as the Temptations, Stevie Wonder, Cher, and Frank Sinatra Jr., and with such jazz greats as Jaki Byard, John Scofield, Paul Motian, Billy Hart, Tim Berne, and Ray Anderson. He is equally at home with traditional and more experimental big bands - he has been a member of the Jimmy Dorsey Orchestra, the RIAS Radio Big Band, and the New York Composer's Orchestra under the direction of Wayne Horowitz and Bobby Previte. With his deep personal commitment to the music and unique "expansive, full-bodied tone" (Jazz Podium), Mack infuses creative excitement into every project he is involved with. This is particularly true for the current band. Working with organ players is familiar territory for Goldsbury; he has a played and recorded with some of the greatest organists in jazz This includes Brother Jack McDuff,, Bobby Forrester, John Patton, Charles Earland, David Braham, Clyde George and Andreas Böttcher. Besides his recordings with the Ernst Bier - Mack Goldsbury Quartet, he has recorded the album "Songs I love to Play" (Timescraper) with his own group, the Mack Goldsbury and the New York Connection, and the CD "Art of Duo - Savignyplatz" (Tutu Records) with bassist Ed Schuller.
Maciej Fortuna - trumpet,flügelhorn
He received his classical and jazz training in high school in Poznan, Poland and continued his education at the University of Poznan Law School. After receiving his law degree in 2007, Maciej practiced law but then decided to devote his time and attention to performing music professionally.

He enrolled in the music program at The Music Academy in Wroclaw, Poland. During his studies at The Music Academy, Maciej studied with Piotr Wojtasik. He performed with a number of bands throughout Poland. In addition to performing as a leader in a number of his own ensembles (Maciej Fortuna Quintet, Frank Parker & Maciej Fortuna Project), Maciej also works as a sideman collaborating on various music projects. He is a member of the Mack Goldsbury And The Polish Connection Group, Ray Blue Quartet, Switch On Quintet, The Other Sound, Beimcik/Fortuna Quintet, and the Patryk Pilasiewicz Project. Maciej is also the lead trumpeter in The Music Academy Wroclaw Big Band and Capitol Theater Big Band conducted by Stanislaw Fialkowski. He also works with a number of djs performing experimental music. In addition to performing and composing, Maciej also works as a first call session musician very often recording on various radio, TV, and film projects. Maciej has become a sought after musician who is known for his jazz, soul, funk, and latin style of playing.

Reggie Moore - piano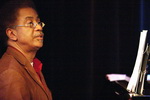 pianist/composer/arranger, was born in NY City, where he received his musical education at the Music and Art Highschool and Hofstra University.
During the next 40 years Reggie performed with singers like Betty Carter and Johnny Hartmann, worked with Jazz greats such as Benny Golson, Kenny Burrell and Gary Bartz, arranged for Thad Jones & Mel Lewis and became musical director of Fats Waller's ,,Ain't Misbehavin". Since 1986 Reggie has been living in Berlin, where he is leading his own trio - his emotional directness and depth have captivated audiences worldwide.
Stefan Weeke - bass
- the "virtuoso with the warm sound at the bass (Oxford Times)"- a traveler between jazz and worldmusic - a strong artist, who is just as successfull as a bandleader, as a sideman with international stars of jazzor as with his solo-programm.
With his own projects he did concert-tours in the name of the "German Goethe Institut" through Europ, Asia, Southamerica and Africa.Inspirations from these travells always find the way into the composition of the artist. Next to his own projects,
Stefan Weeke worked as a musical director with german star-singer "Gitte Haenning" writing and playing her "in jazz" programm. Besides that, he is a known sideman for international jazz-giants as Herb Ellis, Bucky Pizzarelli, David Liebman,Carla Bley, Charlie Mariano, Joe Lovano, Till Brönner und Phillip Catherine.
Ernst Bier - drums

A former student of master drummers Billy Brooks, Charlie Persip, Vernell Fournier, and Elvin Jones. His drumming has been lauded for its "high level of sensitivity, self-abandon, and invention"
The Magazine Bonner Rundschau highlighted his "musicality and scintillating play". Like many European jazz musicians, Bier felt the magnetic pull of jazz's Mecca, and so in 1982 Bier turned up on the New York scene where he would remain until 1987. It was in New York that Bier began his continuing musical relationships and personal friendships with Mack Goldsbury, Ed Schuller, and Herb Robertson. Whether with the Perry Robertson Quartet, the Christoph Adams Trio or with such stars as Atilla Zoller, Chet Baker, Lester Bowie, and Walter Norris, Ernst Bier is seldom involved simply as a sideman. Besides his solid musical input, he is known for his enormous organizational talent. Since returning to Europe, Ernst has been continually on tour, working on and in a number of different projects. Looking for the liveliest music scene he could find, Bier settled in Berlin. His continuing series of workshops keeps Ernst in contact with the fundamentals: for young musicians his "Living School" has developed into an institution.
Photos : Lothar Fitzek
---
What the press has to say:
In the endless night of the soul your thoughts and feelings slide towards the pit of your stomach and you forget about whether or not improvisation requires rules. The music reverberates off the walls - walls that are solid enough to delineate the borders, and yet pliable enough to allow the borders to be broken through at any time. The Ernst Bier/Mack Goldsbury Quartet escorts the listener across these borders.
Zitty/ Berlin
Hammond B3 Organ, saxophone, trumpet, and drums...the combination is reminiscent of the Larry Young LPs Mothership and Unity - both albums are productions that are indicative of their period. And one can say the same about A-Live at the A-Trane. Goldsbury, Robertson, Bätzel, and Bier's music overflows with an exhilarating enthusiasm
Jazznetwork.com