"This is contemporary swinging music."
"Contemporary Swinging Jazz" can best describe the music of the Karl Schloz Trio. With his feet firmly rooted in the feeling and swing of Count Basie, Oscar Peterson and Herb Ellis but also greatly influenced by modern jazz guitarists Jim Hall and Pat Martino, this is the music that satisfies the heart and the mind.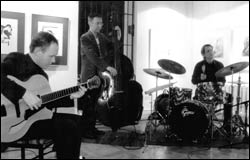 Foto: Andreas Tittmann
Since moving from New York to Berlin just two years ago, Karl has found a steady working band in Germany´s capital city. Playing regularly in Berlin and concertizing through out the country, this group has forged a unique identity of the whisper-like intensity that never loses sight of the past, present and future of jazz. Drawing a repertoire from Charlie Christian to Baden Powell, Gershwin to Jim Hall, "Togetherness" in sound and spirituality, this trio has a love of the melody and a passion for interaction.
Drummer Ernst Bier adds experience and groove along with bassist Stefan Weeke virtouoso solos and wit. This trio captures all that Karl Schloz is about and allows even a more forward-thinking, but always swinging, sound.
Karl Schloz born on march 15, 1971 and raised in St.Louis, began his professional carrer at the age of 16 and soon was playing with the finest musicians in the area. After music school Karl moved to New York City with the urging of famed guitarist Bucky Pizzarelli, where he became a working member of the competitive jazz and studio scene; playing in big bands and trios in all of New York´s finest venues. Karl now lives in Berlin, Germany with his wife and two children.
After moving to Berlin, Karl quickly became active in this East meets West music culture. He has recorded with Till Brönner, Manfred Krug, and Hildegard Knef and performs regularly in Berlin´s jazz clubs. Karl´s debut release on Nagel-Heyer Records, "A Smooth One", was released in May 2001 and has received critical acclaim.
Stefan Weeke - the "virtuoso with the warm sound at the bass (Oxford Times)" - a traveler between jazz and world music - a strong artist, who is just assuccessful as a bandleader, as a sideman with international stars of jazzor as with his solo-program. Next to his own projects, Stefan Weeke worked as a musical director with German star-singer "Gitte Haenning" writing and playing her "in jazz" program.Besides that, he is a known sideman for international jazz-giants as Herb Ellis, Bucky Pizzarelli, David Liebman, Carla Bley, Charlie Mariano, Joe Lovano, Till Brönner und Phillip Catherine.
.
Ernst Bier, studied drums with Billy Brooks, Charlie Persip, Vernell Fournier and Elvin Jones, then lived and performed in NY City between 1982 - 1987. Since his return from the States, Ernst has lived near Cologne and finally settled in Berlin, where he also teaches clinics. The list of musicians he has worked with reads like a Who's Who of Jazz. With his sensitivity and constructiveness, Ernst has developed into a highly appreciated and much requested drummer.
---
What the press has to say:
Schloz's smooth style is deeply reminiscent of Charlie Christian. A native of St. Louis, the 34-year-old, Berlin-based guitarist, a former student of Bucky Pizzarelli, stays rooted in the tradition of swing, avoiding risky experimentation. Whether playing an upbeat Benny Goodman tune or a romantic Rodgers and Hart ballad, Schloz swings with such technical precision and smooth phrasing that his music is enjoyable and accessible for the seasoned jazz aficionado and new fans alike. Schloz dislikes being called a swing musician and his mastery of the seven-string guitar is evidence enough that he's a modern player.
www.bloomberg.com Dec. 2005

"Three big cats on the prowl"
With its swinging contemporary music, the Karl Schloz Trio thrilled the audience at the Heilbronn jazzclub Cave 61 in K3
Karl Scholz has what one usually calls "an original voice"; he has found and come to grips with his own unique musical language. His playing in the concert was persuasive.through his elegant, fine-tuned interaction with drummer Ernst Bier and bassist Martin Lillich.
Heilbronner Stimme, June 2002

"Club music on the highest level, played with intelligence and sophistication!"
Bühne Dresden, Jan. 2001