Perry Robinson is a living legend. He has been sited as the precursor who opened up the way for such players as Don Byron. Perry Robinson's musical direction may be clearer when you know that for more than thirty years he has been sharing the stage with the likes of Archie Shepp, Dave Brubeck, and Charlie Haden.
Robinson's musical world is filled with unusual arrangements and rare compositions combined with a lot of blues and swing. The quartet - with Ed Schuller on bass and Ernst Bier on drums - has existed since 1984. Pianist and singer Christoph Adams, who took over Simon Nabatov's seat, has been with the band since 1998.
Photo: Mehmet Dedeoglu
Perry Robinson - Clarinet
Robert Palmer of the New York Times called Perry Robinson the most gifted clarinetist in modern jazz. Between 1967 and 1984 he was selected eight times by the Downbeat International Critics Poll as clarinetist most deserving wider recognition. He has recorded some forty albums in a musical career that had already begun at an early age at home. His father Earl Robinson was a famous composer of film music, operas, and popular music (Joe Hill, The House I Live In, Ballad for Americans).Up until 1959 Perry shifted between clarinet and saxophone, playing mostly folk music during this time. He received a scholarship to study at the Lennox School of Jazz and began concentrating solely on clarinet.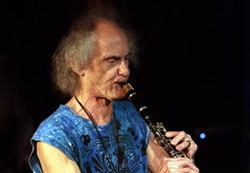 Photo: Mehmet Dedeoglu
Perry subsequently studied at the Manhattan School of Music in New York. Shortly before he was sent to Panama by the US Army to play in the 79th Army Band in 1962, Robinson recorded his first album under his own name. Pianist Kenny Barron, bassist Henry Grimes, and drummer Paul Motian accompanied Perry on Funk Dumpling, which was recorded on the Savoy label. After it's longtime status as a much-sought -after collector's piece, it was re-issued on in 1987 on the Muse label.
As Perry was released from the Army, the Free Jazz revolution was in full swing. He moved back to New York, where he quickly became a fixture in the New York New Wave scene, and there followed years of intensive activity. Perry recorded with Archie Shepp on his album Mama Too Tight on the Impulse label, and with the great bassist Henry Grimes' trio on the album The Call for the legendary ESP label. He worked with Dave Brubeck from 1971-1974, worked and recorded with Gunther Hampel's Galaxie Dream Band, Charlie Haden's Liberation Orchestra, Ray Anderson, Carla Bley and Michael Mantler, and was a featured soloist on Bley's classic Escalator Over the Hill recording.
Robinson has toured Europe countless times and is also one of the most sought-after clarinetists on the European scene. In 1984, he formed the Perry Robinson Quartet; the group included drummer Ernst Bier, bassist Ed Schuller, and pianist Simon Nabatov. Over the next few years they toured the USA, the Caribbean, and worked the New York jazz club circuit, playing in such major clubs as the Blue Note and Fat Tuesdays. The quartet made their first European tour in 1987, and in 1989, after some 27 years, Perry recorded the second album under his own name. Nightmare Island was a live digital recording of the band's performance at the 1988 Leverkusen Jazz Festival. Call to the Stars (Westwind/ITM) was recorded in the summer of 1990, and Angelology (Timescraper) was brought out in 1996.Pianist Christoph Adams joined the band in 1998.
Perry Robinson - M. Fitzgerald Bio - Disco - graphie
http://www.jazzdiscography.com/Artists/Robinson/perry.htm
Jazzdimensions - Perry Robinson plays the US - by Matt Snyder
http://www.jazzdimensions.de/reviews/concerts/2000/p_robinson_us.html
Amazon.de: Detailseite: Perry Robinson: The Traveler
http://www.amazon.de/exec/obidos/
---
Quartet with:
Christoph Adams - piano
Ed Schuller - bass
Ernst Bier - drums
Trio with:
Ed Schuller - bass
Ernst Bier - drums
Christoph Adams - piano
From 1986 to 1995 Christoph studied jazz piano with Jiggs Whigham and John Taylor at the University of Cologne's School of Music. He graduated with honors. Christoph has toured Europe, West Africa, Russia, USA, and Cuba with Woody Shaw, John Taylor, Lew Soloff, Lonnie Plaxoco, and others. Besides his work as pianist, he is a composer, arranger, and singer. Since 1990 Adams has led a piano trio which concentrates on his own compositions. The trio has made radio productions for Germany's WDR, NDR, and SR radio stations. His CD Christoph Adams Trio (New Morning Records), with Ed Schuller and Ernst Bier, came out in 1997. Adams has performed as solo pianist since 1995.
Ed Schuller - bass
Ed Schuller studied music theory, clarinet, and bass with David Levenson of the Cleveland Symphony Orchestra from 1970-2. From 1972-74 he studied with Larry Wolf of the Boston Symphony Orchestra. He graduated from the New England Conservatory of Music with a major in African-American music. Schuller has worked with Paul Motian, Tim Berne, Eric Watson, Armen Donelian, Marty Cook, Jim Pepper, Mal Waldron, Pat Martino, Barry Miles, Jaki Byard, Lee Konitz, Sal Nistico, Clark Terry, Kenny Clark, Red Rodney, Julius Hemphil, and Karl Berger. He currently works and records with Joe Lovano. Schuller has played on more than 30 LP and CD recordings, including albums with Bill Frisell, Joe Lovano, Jim Pepper, John Scofield, Billy Hart, Simon Nabatov, Herb Robertson, and Marty Cook. His recordings as bandleader include The Eleventh Hour, Mu Point, The Force, Snake Dancing (TUTU), and To Know Where One Is (Power Bros).
Ernst Bier - drums
Ernst Bier studied at the Swiss Jazz School with Billy Brooks from 1974-1976, with Charlie Persip and Vernell Fournier in 1982 in New York, and with Elvin Jones in 1984 in Florida. From 1977-81 he taught drums and improvised music at the Universities of Göttingen and Kassel. From 1976-82 appearances, productions, and recordings with Allan Praskin, Jack Gregg, Chet Baker, Mal Waldron, Attila Zoller, Lou Blackburn, Herb Geller, Paolo Radoni, and Don Friedman, etc. Bier moved to New York in 1982, where he appeared and was involved in productions with Ted Curson, Junior Cook, Joe Lovano, Ron McClure, Ricky Ford, Reggie Workman, Ray Anderson, Lester Bowie, etc. After his stint in New York, Ernst moved back to Germany in1987. Since his return he has been involved with tours, productions, and recordings with Mack Goldsbury, Charles McPherson, Ron McClure, Jim Snidero, Conny Bauer, John Schröder, Herb Robertson, Walter Norris, Karl Berger, Billy Bang, The Sweet Georgia Brown Tap Dance Show, Frank Möbus, Dave Pike, etc.
---
What the press has to say:
His breath flows through the clarinet ..the musicians achieve an extremely transparent group sound which at times boarders on chamber music. Drummer Ernst Bier's discreet playing is effective. The poetic pianist and sometime-singer Christoph Adams gives the music room in which virtuoso bassist Ed Schuller can continually move. Perry Robinson's clarinet playing lends the music a completely original character. After listening to such a beautiful concert one wonders why the clarinet meets out such a shadowy existence in modern jazz?
Göttinger Tageblatt
A listening experience for gourmets - perfect interaction ...the quartet moved freely in and out of styles, never allowing themselves to be confined by any ideological straightjacket. Open-ended atonality mingled in between blues and bebop. Schuller sometimes would bow the bass in a "classical" style - through his duo interplay with the clarinet or piano he would come up with surprising and original sound-effects. This concert was a mixture of knowledgeable interaction and high-level intuition, of intelligence and feeling. Experiencing the fervent earthiness of their masterful improvisations was a pure listening pleasure. There were no low points, no let-downs; the concert was simply a delight of a very special and unusual sort.
Pforzheimer Zeitung