home / diskographie / Jazz Parasites "Very Early"




Jazz Parasites - "Very Early"
with Kalle Kalima / Ed Schuller / Ernst Bier


Jazzwerkstatt JW 062

Finnish guitarist Kalle Kalima, American bassist Ed Schuller and German drummer Ernst Bier make up the internationally comprised triangular collective known as the intriguingly and spontaneously titled Jazz Parasites.. ... [more]

Cover: wppt:kommunikation, Klaus Untied

Kalle Kalima - Guitar

Ed Schuller - Bass

Ernst Bier - Drums

| | | | | |
| --- | --- | --- | --- | --- |
| 1. | Very Early | Bill Evans | | 6:00 |
| 2. | Johannes | Kalle Kalima | | 6:13 |
| 3. | Falling Grace | Steve Swallow | | 6:15 |
| 4. | Checker | Kalle Kalima | | 3:27 |
| 5. | Wise One | John Coltrane | | 11:02 |
| 6. | Paracites | Kalle Kalima | | 5:54 |
| 7. | Allen & Stanton | Kalle Kalima | | 5:36 |
| 8. | Watermelon Man | Herbie Hancock | | 6:06 |

Recorded by Rainer Robben at www.audiocue.de on June 7th 2004
Mixed and mastered by Rainer Robben at www.audiocue.de
Photos: © Dietmar Liste.
Cover: wppt:kommunikation, Klaus Untied

order at...........

�

---

Finnish guitarist Kalle Kalima, American bassist Ed Schuller and German drummer Ernst Bier make up the internationally comprised triangular collective known as the intriguingly and spontaneously titled Jazz Parasites.

Kalle Kalima (a recent winner of the "Neuer Deutscher Jazzpreis 2008") studied with one of the more respected guitarists from his country - Raoul Bjorkenheim. He has worked with such other legendary Finns as saxophonist Juhani Aaltonen, pianist Heikki Sarmanto and bassist Teppo Hauta-Aho, and his non-Finnish and as-impressive associations range from Polish trumpeter Tomasz Stanko to singer Linda Sharrock (widow of the great guitarist Sonny Sharrock, surely an influence amongst many). Having played as a member of the Jazz Parasites since the trio's inception in late 2003, he even helped name the trio with his tune "Parasites". Previous to the Jazz Parasites, Kalima played on several occasions in Bier's quartet with co-leader saxophonist Mack Goldsbury, who perhaps not so coincidentally bassist Ed Schuller cut his teeth with on one of his first-ever recording sessions dating back to 1978 (Anthropo-logic, Muse). Almost two decades later, in 1996, Schuller recorded with the Bier/Goldsbury Quartet (At Night When You Go To Sleep, Timescraper), and nearly a decade following, we now have Very Early in your hands if not already in your CD player.

Schuller's documentation over the decades, particularly since the early '80s, has been a stellar display of "sideman" dates, finding himself on equal footing with such "leaders" as saxophonist Tim Berne, drummer Paul Motian, pianist Mal Waldron, multi-instrumentalist Joe Lovano and of course with Bier dating back to 1984, both being members of clarinetist Perry Robinson's Quartet.

The ever-pliable Ernst Bier in the early '80s studied with a triumverate of jazz drumming royalty: Charli Persip, Vernell Fournier and Elvin Jones. He played regularly with guitarist Attila Zoller for several years and trumpeter Ted Curson before and then soon became associated with Robinson and bassist Schuller. In 1987, he moved back to Germany after nearly half a dozen years in New York. Bier performed on and off for several years with violinist Billy Bang and has accompanied artists ranging from Herb Ellis, Bucky Pizzarelli and Howard Alden, to more forward thinking artists like Alexander von Schlippenbach, Conrad Bauer, Rudi Mahall and Ernst-Ludwig Petrowsky. The company he keeps, or rather the company that has kept him, consequently, has revealed a flexibility and invaluable trait that Bier possesses and utilizes in any and every given situation and musical environment he's been in. The Jazz Parasites here obviously are no exception.

With half the tracks being the guitarist's originals, one might momentarily think that Kalima might be the nominal if not unofficial leader. "Parasites" (the curious band name's title track), however, just doesn't strike a familiar chord as an appropriate band descriptor to describe the ensemble's primary strength - that of being a like-minded, communal group of three comprised of equal parts guitar, bass and drums. If there's anything that can be translated as parasitical, it is ultimately the resulting music as a whole which exploits gains much greater than the mere sum of the triumverate 's individual musical contributions. Sprinkled amidst the four originals are takes on three familiar jazz standards plus a conversely anything but standard take on Herbie Hancock's "Watermelon Man". There are respectful, well-rounded performances, given, of such standards as Bill Evans' "Very Early", but with Schuller's bass featured to the fore as much as Kalima's guitar, the two and three-way exchanges are as frequent and noteworthy as the individual spotlights. And on such originals as "Johannes" and "Parasites", there is such a sense of uptempo urgency and electric edginess due to the even give and take - between Bier's swirling and incessant rhythms and cymbal splashes, Kalima's vertical lines that stretch further and further skywards and Schuller's omnipresent deep bass slaps – this very naturally giving trio puts out as much as it takes, and not just from the history of jazz. Jazz Parasites? I think not.

One can only assume that Jazz Parasites might be referring to what has become a proliferation of almost epidemic proportions in the jazz world these days, where a regurgitation of jazz' past seems an unavoidable inevitability in more cases than not. This collective, however, proves itself to be excluded from this unfortunate but prevalent trend, and the musicians respective backgrounds and associations with one another not to mention others may very well hold the key to their avoiding the pitfall of being Jazz Parasites, at least by definition.

The group's performing apex, and one of this CD's many highlights, is the trio's over 11-minute showcased rendition of Coltrane's "Wise One", squarely and ideally placed in the middle of the CD's sequencing. Schuller's arco feature is solid, carrying a resonance boosted by Bier's toms, and Kalima's entry is as intense as it is sensitive. Schuller's initial pizzicato to arco and closing pizzicato to arco statements represent but two of the ongoing significant momentum indicators through this multi-movement piece that ends as exquisitely as it begins. As complete a performance as one would hope for as a listener, and as a musician.

The CD's jovial coda, Herbie Hancock's "Watermelon Man", reveals the ever-present humor that may not be detected (at least not so blatantly elsewhere), regardless of the good time these musicians must have had throughout this session and not just here on the closer. Ed Schuller's personally-penned rap is priceless: "Watermelon man, we got it in the can - cuz he's the heavy man who got the big plan. As head of his clan, he's got the main jam. Everyone's a fan of the watermelon man….Who let the Watermelon Man out?!" We also get a sampling of Schuller's bass humming/singing technique pioneered by the likes of the since departed bass playing legends Slam Stewart and Major Holley. I'm sure once the tune ended and mic levels were potted down and turned off, the studio had to have been filled with uncontrollable laughter after this one. As Bier aptly describes this number, it's "Ed's crazy rapsong!"

These are the Jazz Parasites. Or are they? With minds and instruments of their own, there's no need for anything but empathetic, and emphatic, three-way communication and creation.

(Perhaps it's we as the collective jazz listeners, who are the Jazz Parasites!? There's certainly much to take from repeated listens!)

Enjoy…

Laurence Donohue-Greene

Managing Editor, AllAboutJazz-New York

www.newyork.allaboutjazz.com

top

Reactions & Reviews
Gestern war Freude von Anfang an da. Ich höre die Platte auf Kopfhörer jetzt zum dritten mal. Kalima ist sehr präsent, melodisch bis heftig - sehr schöne Übergänge von "ich liebe Dich-ich hasse Dich". Schullers Bass und seine Stimme machen mich locker und lässig. Und Serveza, souverän macht er den Jungs Beine. Ich hätte nie gedacht, das ein Gitarrentrio mich so antörnen kann.
Dietmar Liste
ALLABOUTJAZZ-NEW YORK
Parasites is an international trio that has been in existence for over five years. Drummer Ernst Bier and bassist Ed Schuller's long-fostered musical partnership is evident throughout, resulting in an airtight but loosely swinging rhythmic feel, no matter what the context. Similarly, guitarist Kalle Kalima demonstrates his diverse influences while never falling victim to them. He'll introduce a certain flexibility of vibrato or a delicate turn of phrase or change of dynamic that is beholden to none. Kalima's subtle approach can be heard clearly on Coltrane's "Wise One", which might be the album's finest offering. Check out the transition from metric freedom to the duple section to hear his subtle shadings, the long sustains, slight distortion, tasteful vibrato and hairpin bends that imbue each phrase. Coming out of a section containing glacial swells, crystal-clear harmonics and pure tones - stylistic traits associated with his teacher, Raoul Björkenheim - the timbral change is particularly effective. In this trio, no member is subservient, another group attribute demonstrated by this crucial musical episode. Schuller, who'd been demonstrating his formidable arco skills, begins to vamp, changing each repetition to suit Bier's accented and multihued percussives. This entire review could be devoted to discussing this interpretation, so numerous are its changes in mood and color, but there's a lot more on offer. Highlights include the blues-inflected rock-solid groove of Kalima's "Parasites", where he demonstrates his subtle comping and fluid soloing. A cooler aesthetic opens "Very Early", as might be expected, but the results are never stagnant, largely due to Bier's intricate brushwork, Schuller's sensitive pizzicato and a particularly tasty solo. The trio breathes simultaneously as dynamics swell and fade, the varied and tasteful interaction keeping interest high. The closer, a skewed updating of "Watermelon Man", finds Schuller offering another fine solo but flexing his rather small rap muscles. His faux-macho, heavily accented delivery and clichéd lyrics are what might happen if the butcher from the PBS show WordGirl decided that a foray into hiphop was in order. "Who let the watermelon man out" indeed! It's cute though, which is all it was meant to be, and after a fantastic disc, such indulgences afford a chuckle.
by Marc Medwin 18 January 2010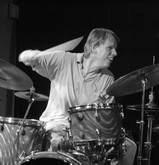 www.nordische-musik.de
Dankenswerterweise wurde von JazzWerkstatt eine Aufnahme von 2004 wieder veröffentlicht, die den finnischen Gitarristen Kalle Kalima mit zwei etwas älteren und sehr renommierten Musikern präsentiert: der deutsche Drummer Ernst Bier, der auch treibende Kraft hinter diesem Trio ist, und der amerikanische Bassist Ed Schuller.
Das Programm besteht zur Hälfte aus guten Kompositionen von Kalima und ebensolchen Standards: Das Titelstück stammt von Bill Evans, dazu kommen Steve Swallows »Falling Grace« und »Wise One« von John Coltrane. Klanglich ist das Trio auf der Höhe der Zeit; Kalima spielt sehr bissig, mal schneidend, mal lyrisch – sehr interessant, ihn Standards spielen und begleiten zu hören. Ernst Bier ist ein Drummer, wie man ihn sich nur wünschen kann – aufmerksam, reaktionsschnell und einfallsreich. Ed Schuller spielt wunderbare Soli, die er teilweise mitsingt, und er hat einen grandiosen Sound. Zum Schluss gibt's eine Rap-Version von »Watermelon Man« – schade, dass dieses Trio so selten zusammenkommt.
by Tim Jonathan Kleinecke