Ernst Bier - Mack Goldsbury Quartet
mit Kevin Burrell - perc.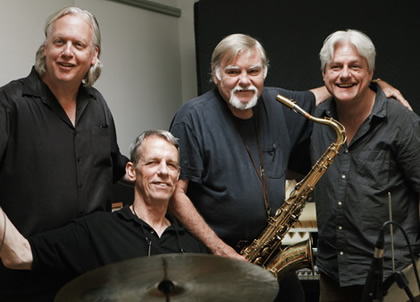 Mack Goldsbury (sax) Rolf Zielcke (p) Erik Unsworth (b) Ernst Bier (dr)
In 1994 Mack Goldsbury and I decided to put together a co-operative group. At that time guitarist Frank Möbus and bassist Ed Schuller were our partners. We released our first CD: "At night when you go to Sleep" in 1996
Ernst Bier (dr) Regis Molina (as, bs,fl) Kelvin Sholar (p) Charles Sammons (b) Kevin Burrell (perc)
Diversity is a Berlin phenomenon; age, nationality; culture, etc., are no longer relevant. Participating in this multiplicity is Unity6, an inter - national band with several generations of highly active jazz musicians in Berlin - united by drummer Ernst Bier.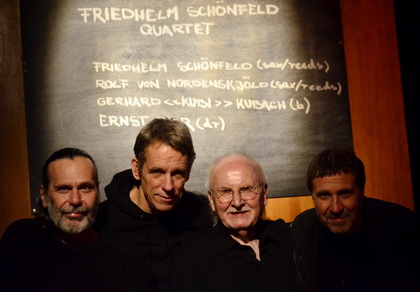 Friedhelm Schönfeld (reeds), Rolf von Nordenskjöld (reeds), Gerhard 'Kubi' Kubach (b), Ernst Bier (dr)
Die stilistische Einordnung des Quartetts ist in dem Begriff "Modern Creative" in etwa ausgedrückt. Die Musik bewegt sich im Spannungsfeld von Jazztradition im weitesten Sinne und freien Formen der Improvisation

Helmut "Joe" Sachse (git, fl ) Ernst Bier (dr, perc)
"How WE always wanted to play the Beatles,
but YOU were afraid to hear!"
[band info]
Günter Heinz (tb, fl, electr) Ernst Bier (dr, perc, electr)
DrumBone - gewachsen aus "drums and trombone" zu einer inspirierenden Symbiose aus zwei Menschen und verschiedenen Ideen Töne zu erzeugen.

Karl Schloz (g), Lars Gühlcke (b), Ernst Bier (dr)
"Playing regularly in Berlin and concertizing through out the country, the Karl Schloz Trio has forged a unique identity of the whisper-like intensity that never loses sight of the past, present and future of jazz."
[band info]
Rolf Römer (ts, ss, bcl), Martin Auer (tr, flh), Lars Gühlcke (b), Ernst Bier (dr)
Das Konzertrepertoire des Independent Jazz Quartets bietet dem Jazzpublikum eine breitgefächerte musikalische Stilistik von Avantgarde,mit freien Improvisationen in der Tradition des Don Cherry Ornette Coleman Quartetts über straight ahead und Kompositionen anderer jazzorientierter Stilistik.
---
Project: LIVING SCHOOL WORKSHOP

Founded in 1992, Berlin's Living School Workshop was based on an idea from Franz de Byl (Flöz) and patronized by the Berlin Senate and the Charlottenburg - Wilmersdorf School of Music. The two principal teachers are Mack Goldsbury (saxophones) and Ernst Bier (drums). The workshop is directed towards music students and experienced amateurs of all ages.