Diversity is a Berlin phenomenon, where age, nationality, culture, etc. no longer play a role. The international band Unity5, in which drummer Ernst Bier unites various generations of highly active jazz musicians from Berlin... [more]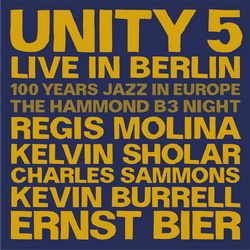 Cover: Herbert Weisrock
Regis Molina – altosax, baritonsax, percussion, voice
Kelvin Sholar – hammond B3, fender rhodes, keyboards
Charles Sammons – double bass
Kevin Burrell - percussion
Ernst Bier – drums
| | | | | |
| --- | --- | --- | --- | --- |
| 1. | Melody for Melonae | Jackie McLean | | 13:08 |
| 2. | Villanelle for six | Kelvin Sholar | | 10:42 |
| 3. | Let's cool one | Thelonious Monk | | 14:42 |
| 4. | Sanga Abakuá | Regis Molina | | 16:17 |
| 5. | Carefree | Sun Ra | | 18:05 |
100 years Jazz in Europa The Hammond B3 Nights
Recorded live at Maschinenhaus Kulturbrauerei - Berlin
December 10, 2018 by kulturradio rbb
Recording supervisor: Michael Havenstein
Sound engineer: Tjark Völker
Assistant: Ulrich Hieber
Mixed: Tjark Völker & Michael Havenstein
Mastered: Ulrich Hieber
Producer for rbb: Ulf Drechsel
Executive Producer: Ulli Blobel
Design: Herbert Weisrock

---
Diversity is a Berlin phenomenon, where age, nationality, culture, etc. no longer play a role. The international band Unity5, in which drummer Ernst Bier unites various generations of highly active jazz musicians from Berlin, participates in this in a variety of ways. On alto sax from Havana/Cuba Regis Molina, on piano from Detroit/USA Kelvin Sholar, on bass from Washington DC/USA Charles Sammons and on percussion Kevin Burrell from New York/USA. The music of Unity5 is created by compositions of the band and their contemporary interpretation, using the diverse stylistics of jazz. The top-class ensemble reflects the diversity of the Berlin scene. The musicians, coming from different backgrounds, met for the first time in the Berlin jazz club A-Trane and harmonized immediately despite their differences.
Their unique playing style makes the music both contemporary, but also celebrates the diversity of jazz styles. Dear listener, we have common musical goals - so let the energetic freshness and playful spirit of this band infect you! In December 2018 we played at the Hammond B3 Nights at Maschinenhaus Kulturbrauerei - Berlin and Rundfunk Berlin-Brandenburg recorded us live. The concert is now available on the renowned record label Jazzwerkstatt.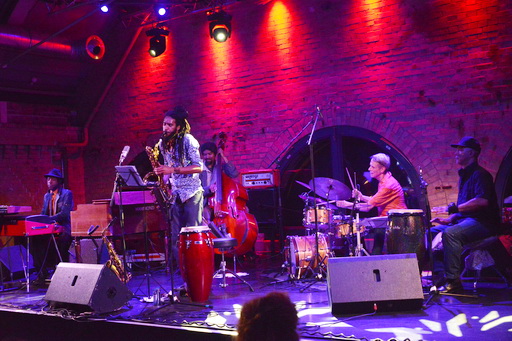 Photo: Herbert Weisrock
There must be at least five clones of the Berlin scene veteran Ernst Bier, because every day he seems to appear and play simultaneously on all corners of the city. The musicians he has performed with in the last five years alone must number in the hundreds. It's a wonder he has any time left at all for recording productions.
But maybe the sixth issue of his will take care of that. In any case, Jazzwerkstatt is releasing a new album by his band Unity5 with an illustrious lineup that includes Regis Molina and Kelvin Sholar, among others. Stylistically broadly positioned, this CD is an adequate badge for the jazz location Berlin.
Wolf Kampmann / JAZZthing