When jazz musicians get together on stage, there is always the chance that sparks will fly - assuming that all those involved are open to the possibilities, listen to each other, and have something to say.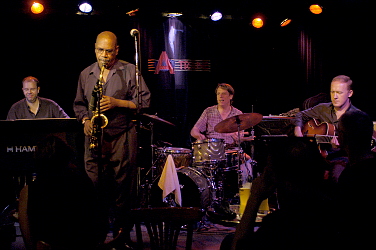 Then and only then may the audience witness a creative process in which an exchange of energy and ideas plays out. In this case, it goes back to Manfred Schiek's, the head of Konnex Records, original idea. Manfred had previously recorded Sonny Fortune as well as Ernst Bier in a number of settings. In 2005 he proposed the idea of a co-operative group project to Ernst and Sonny Fortune. Berlin drummer Bier first met Fortune in New York in the 1980's at a time when the saxophonist was working with Elvin Jones and Ernst was concurrently studying with Elvin. Following Manfred Schiek's offer, a couple of long-distance phone calls cemented the deal, and the date was set: the 12th – 16th of July at the famous Berlin jazz club, the A-Trane, where also the recent CD was recorded.
Each band member was caught up in the flight, sharing his creative energy with the others.
---
Sonny Fortune, who was born in 1939, is considered to be one of the strongest virtuoso saxophonists of his generation. Fortune came to jazz at the age of 18, but he says that, "to find out whether or not I had what it takes to be a musician, I had to go to where it was happening – New York." He was 28 years old when he arrived in the Big Apple where he began playing with Elvin Jones, Frank Foster, and Mongo Santamaria. Later he worked with Leon Thomas and McCoy Tyner. At one point during the two and a half years he worked with Tyner, he turned down a gig with Miles Davis. Miles offered him the gig again in 1974; this time Sonny was his man – you can hear him on the Miles Davis albums "Big Fun", "Agartha", "Pangaea", and "Get Up With It". Early on, Sonny Fortune was impressed and influenced by Charlie Parker and Sonny Rollins, but to this day there is one player in particular that he respects – almost deifies: John Coltrane. Coltrane's 1959 album "My Favorite Things", gave Fortune the orientation for his own artistic path, a path along which he later met Coltrane personally. "John gave me direction in my life. Before I saw and heard him I was going nowhere in a hurry." is the way Sonny describes Coltrane's enormous influence on him.
www.sonnyfortune.com

Karl Schloz born on march 15, 1971 and raised in St.Louis, began his professional carrer at the age of 16 and soon was playing with the finest musicians in the area. After music school Karl moved to New York City with the urging of famed guitarist Bucky Pizzarelli, where he became a working member of the competitive jazz and studio scene; playing in big bands and trios in all of New York´s finest venues. Karl now lives in Berlin, Germany with his wife and two children.
After moving to Berlin, Karl quickly became active in this East meets West music culture. He has recorded with Till Brönner, Manfred Krug, and Hildegard Knef and performs regularly in Berlin´s jazz clubs. Karl´s debut release on Nagel-Heyer Records, "A Smooth One", was released in May 2001 and has received critical acclaim
Matthias Bätzel was born in Weimar, Germany in 1966. Encouraged to play music at an early age, he studied Violin and piano at Weimar's Franz Liszt College of Music.
His wide-ranging musical interests range from classic to rock through jazz have pointed him towards the instrument that he plays today - the Hammond organ. Bätzel has played in various soul-jazz and rock formations. His work as professor for jazz piano in Wiemar and his intensive collaboration with such international stars as Charlie Antolini, Emil Mangelsdorff, Silvia Droste, Dieter Ilg, Clark Terry, and Carla Bley have molded him into the wide-ranging creative instrumentalist he is today. Germany's "first jazz pedagogue", tenor saxophonist Joe Viera openly praises him: "His rhythms have drive, his chords have bite, his melodies structure, and his bass lines logic". After his work with the organ trio Grooveyard, Matthias formed the Matthias Bätzel trio in 1998. The group's album "Monk's Mood" appeared in 2002. He is currently involved in an intensive collaboration with the actor and singer Manfred Krug. It is a joining of forces in which many more musical surprises may be expected.

Ernst Bier, a former student of master drummers Billy Brooks, Charlie Persip, Vernell Fournier, and Elvin Jones, his drumming has been lauded for its "high level of sensitivity, self-abandon, and invention", while the Bonn Magazine TV show highlighted his "musicality and scintillating play". Like many European jazz musicians, Bier felt the magnetic pull of jazz's Mecca, and so in 1982 Bier turned up on the New York scene where he would remain until 1987. It was in New York that Bier began his continuing musical relationships and personal friendships with Mack Goldsbury, Ed Schuller, and Herb Robertson. Whether with the Perry Robertson Quartet, the Christoph Adams Trio or with such stars as Atilla Zoller, Chet Baker, Lester Bowie, and Walter Norris, Ernst Bier is seldom involved simply as a sideman. Besides his solid musical input, he is known for his enormous organizational talent. Since returning to Europe, Ernst has been continually on tour, working on and in a number of different projects. Looking for the liveliest music scene he could find, Bier settled in Berlin. His continuing series of workshops keeps Ernst in contact with the fundamentals: for young musicians his "Living School" has developed into an institution.
---

What the press has to say:
A spontaneous email reaction after the concerts:
Fortune/ Schloz/ Bätzel/ Bier: Incredible! Pure musical joy! A fantastic evening! Great musicians, great music! Many thanks!
Klaus M. Klose, Berlin