Metro Sonic - the sound of a large city ........................the sound of Berlin.
Drummer Ernst Bier surrounded himself with strong personalities of the Berlin jazz scene. Some of them are bandleaders themselves. With their compositions and individual musical expression everybody contributes to the great sound of this ensemble.
Melody, rhythm, sounds and sometimes a lot of drive..... let them carry you away with their passionate playing.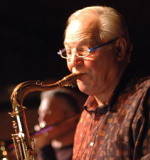 Rolf Römer
born in Wiesbaden he studied at the University of Music in Frankfurt am Main. After playing in American armyclubs in Spain, Italy, North Africa and France he settled in Paris working in studios and Jazzclubs. 1969 he became member of the SFB Radio Big Band Berlin and worked with Quincy Jones, Oliver Nelson, Nancy Wilson, Ray Brown, Henry Mancini, Toots Thielemanns, Ray Charles, Gil Evans etc.
1981 he moved on to the WDR Radio Big Band Köln and worked with Bill Holman, Phil Woods, Kenny Wheeler, Randy Brecker, James Moody, Manfred Schoof, Philip Catherine, Freddy Hubbard, John Clayton, Lalo Schifrin, Phil Collins etc. 1994-95 he studied composition with Bob Brookmeyer.
2004 his engagement in Köln ended and he moved back to Berlin.

Dan Gottshall
born in Pottstown, Pennsylvania (USA). He studied at Towson State University in Baltimore, Maryland and continued his studies with Carmine Caruso in New York. In addition to contributing to more than 60 CDs, Gottshall has performed with the Clayton/Hamilton Big Band in L.A., Peter Herbolzheimer´s RC&B, as well as playing and recording with artists such as Chaka Khan, Al Jarreau, Lena Horne, Albert Mangelsdorff, Greg Osby, Gene Jackson, Chuck Brown, Robin Eubanks, Bob Moses, Charlie Mariano, Tony Bennett, Gladys Knight & the Pips, and The Temptations.
From 1993-2001 he played first trombone with the RIAS Big Band.
He is currently lead trombonist with the NDR-Bigband in Hamburg.
Tino Derado
a graduate (BFA) of Berklee College of Music (Boston) and the New School (New York) Tino Derado was introduced to classical piano at age six and and crossed over to Jazz in his early teens. He lived in New York and Boston for 12 years and in 1997, his "extraordinary abilities in the field of Jazz" earned him an honorary U.S. Green Card.
He performed with Gary Burton, Peter Erskine, Paul Winter, Dave Liebman, Jimmy Cliff, Craig Handy, Billy Drewes, Matthew Garrison, Rigmor Gustafsson, Rebekka Bakken, Papo Vasquez, Orlando Marin y su orchestra, Andy Gonzales as well as Bob Moses and toured extensively with various bands in Europe, South America, Russia and the Middle East.
- the "virtuoso with the warm sound at the bass (Oxford Times)" - a traveler between jazz and world music - a strong artist, who is just as
successful as a bandleader, as a sideman with international stars of jazz
or as with his solo-program. With his own projects he did concert-tours in the name of the "German Goethe Institute" through Europe, Asia, South America and Africa. Inspirations from these travels always find the way into the composition of the artist. Next to his own projects, Stefan Weeke worked as a musical director with German star-singer "Gitte Haenning" writing and playing her "in jazz" program.
Besides that, he is a known sideman for international jazz-giants as Herb Ellis, Bucky Pizzarelli, David Liebman, Carla Bley, Charlie Mariano, Joe Lovano, Till Brönner und Phillip Catherine.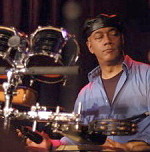 Kevin Burrell
born in Newark/New Jersey, discovered his passion for drums and percussion at the age of ten when he began his formal training. His cousin, the late David Eubanks, introduced the young Kevin to such fabulous musicians as Larry Young and Dexter Gordon. In 1987.Kevin joined the "Mack Goldsbury Jazz Explosion", with Ed Schuller, John Scofield and Billy Hart. He is a creative and empathic percussionist, who contributes colorful textures to the music he plays.
Ernst Bier
A former student of master drummers Billy Brooks, Charlie Persip, Vernell Fournier, and Elvin Jones, his drumming has been lauded for its "high level of sensitivity, self-abandon, and invention", while the Bonner Rundschau Magazine highlighted his "musicality and scintillating play". He lived and worked in New York City from 1982 through 1987. After his return to Germany he first lived in Köln, and later in Berlin, where he leads a continually running series of jazz workshops. The list of musicians with whom he has worked reads like a "Who's Who" of jazz : Chet Baker, Attila Zoller, Lou Blackburn, Herb Geller, Don Friedman, Ted Curson, Junior Cook, Joe Lovano, Ron McClure, Ricky Ford, Reggie Workman, Ray Anderson, Lester Bowie, Charles McPherson, Conny Bauer, Herb Robertson, Walter Norris, Karl Berger, Billy Bang, Dave Pike, Bucky Pizzarelli, Sonny Fortune, Ed Schuller, Mack Goldsbury, Perry Robinson etc.
With his dedication, his sensitive playing style, and his constructive approach, he is a highly valued drummer who is continually in demand.
all photos by jazzimage.de