Children's Song
The trio format of clarinet-bass-drums has cropped up only occasionally in Perry Robinson's long, illustrious career, but it has always been significant. Perry's first important trio came together while he was in the army in Panama in the early 1960s... [mehr]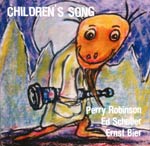 Robinson/Schuller/Bier - "Children's Song"
Perry Robinson - clarinet
Ed Schuller - bass
Ernst Bier - drums, perc.
| | | | |
| --- | --- | --- | --- |
| 1. | The Call | Perry Robinson | 05:12 |
| 2. | The Feud | Perry Robinson | 05:56 |
| 3. | Overtonal | Ed Schuller | 12:11 |
| 4. | Children's Song | Perry Robinson | 08:23 |
| 5. | Soundpiece | Robinson/Schuller/Bier | 13:53 |
| 6. | Petite Fleur | Sidney Bechet | 04:45 |
| 7. | In Time Out | Ed Schuller | 07:39 |
| 8. | Bows and Arrows | Jake Holmes | 04:58 |
Recorded live im LOFT / Köln, 7. Dezember 1990 von Ansgar Ballhorn
Mastering im AudioCue Tonlabor von Rainer Robben, www.audiocue.de
Text: Matt Snyder
Cover painting: Jaanan
Fotos: Sabine Hartmann
Produced by Manfred Schiek
Diese CD anhören und bestellen
---
Children's Song
The trio format of clarinet-bass-drums has cropped up only occasionally in Perry Robinson's long, illustrious career, but it has always been significant. Perry's first important trio came together while he was in the army in Panama in the early 1960s. He jammed a lot with Bill Folwell and Tom Price in what he called the Uni Trio, for which he composed his family of "automatic compositions."
That set of angular but beautiful tunes, including Warp Factor Nine, Touch of Strange, and The Tale of the Trolls, has provided bottomless inspiration for Robinson and all sorts of groups he has played and recorded with in the years since. The second great Robinson trio experience was the bassist Henry Grimes's album The Call (ESP) in 1965, which again featured Tom Price on drums. The intensity of the session is still jaw-dropping for the listener; few other clarinetists have ever made such an incendiary statement in sound.
If Perry Robinson had never made another recording, we would still be talking about that one. (The recent, miraculous return of Henry Grimes to the music scene triggered a revival of this group, including a set of broadcasts on WKCR in New York that will hopefully be released one day.) Another major trio setting for Robinson occurred a few years ago under the leadership of bassist William Parker and featured the master drummer Walter Perkins. As I sat in the audience watching the recording of the amazing Bob's Pink Cadillac (Eremite) at Tonic in New York, I remember wishing Perry played in this setting more often, and with that group in particular. The death of Walter Perkins sadly made that impossible.
This CD, then, joins a distinguished tradition, but it has unique qualities of its own. This was (and, sometimes, still is) a working group. It was on tour in Germany promoting the Perry Robinson Quartet's second CD, Call to the Stars (West Wind), when pianist Simon Nabatov couldn't make a gig at the Loft in Köln. A magical night of discovery ensued, and not only gives us another Robinson trio event to celebrate, but also offers a fascinating window into the life of the Perry Robinson Quartet. It's a given that the addition or subtraction of a single musician from a group can make a vast difference, but here's some auditory proof. Listen to the Robinson quartet recordings with Nabatov and you hear a lush, complex bed of sound. Without the piano, a sparser but still well-oiled machine is revealed.
By the time of this recording the bass-drums team of Ed Schuller and Ernst Bier had been together for about 7 years, and this trio-for-a-night has the quiet confidence that comes with great personal and musical familiarity. In some ways the breathing room of the trio format brings out the best in all three of these musicians as they forge a unique, collective sound, while also providing great opportunities for individual expression. The group was also lucky to be blessed with a very-good recording indeed.
This is a live set, but the Loft has such excellent sound and engineering that sometimes it's hard to remember that. The music speaks for itself, but I'll just draw attention to two delightful aspects of the repertoire. The first is Perry's Children's Song, which has never before received the extended examination it receives here; Ernst Bier and an audience member were recruited to play toy instruments and the performance is haunting. The second is Perry's recorded debut of Sidney Bechet's Petite Fleur. It may have you wishing to tango!
Go ahead feast your ears on this, the latest in a tradition of trio settings for a musician who has repeatedly mined that format and produced memorable music. Listen and be grateful for serendipitous recordings like this one; be grateful, too, for Perry Robinson, a musical mystic who continues to walk among us, producing music for the ages.
Matthew Snyder
top
ON THIS DAY
ALLABOUTJAZZ - New York December 2013 by Andrey Henkin
A German live date from the multinational, multi-generational trio of Perry Robinson (clarinet), Ed Schuller (bass) and Ernst Bier (drums), this album is anything but childish. Ostensibly under Robinson's leadership, the album fills out what is a somewhat scant leader discography but can also be considered a cooperative date as both Robinson and Schuller contribute material (including the title track from Henry Grimes' 1965 debut, on which Robinson appeared) and there is also a group improvisation.
ROBINSO/SCHULLER/BIER "Childrens Song"
Vangelis Aragiannis, Athen
Very few musicians have managed to feature the clarinet as a lead instrument in modern jazz and even fewer in free jazz, since clarinet is mainly related to the swing tradition. Perry Robinson stands out among these musicians. He has played with big names of the creative scene such as the Liberation Music Orchestra, Archie Shepp, Paul Bley, Günter Humpel and Roswell Rudd. Robinson has released two more albums with a clarinet trio. The first of them was in 1965 with the now reborn Henry Grimes, in the sole album he ever released as a leader before he disappears for 35 years. The second one was in 2002 with another prominent free jazz bassist, William Parker. "Children's Song" is a live recording that happened coincidentally, since the night of that particular gig in December of 1990, Simon Nabatov was absent from the Perry Robinson Quartet. The clarinetist along with bass player Ed Schuller (son of Gunter Schuller) and the German drummer Ernst Bier, performed as a trio in the Koln Club Loft. This one and only gig was recorded and released recently by the Berlin label Konnex. The unanticipated absence of the pianist provided plenty of harmonic choices and a wider range of selections to the remaining members of the group. The three of them faced no problem in order to exploit it as they had been together in this working group for 7 years. In any case save for one track that sounds like been collectively improvised, their music is completely structured and full of allusions to renowned themes, from Monk's "Bemsha Swing" to "Santa Claus is coming to town". Two of the tracks that sound especially interesting and show the way that this trio combined the traditional playing to the openness of free jazz, are the title track, with Bier utilizing a toy xylophone and Sidney Bechet's tango "Petite Fleur".
Perry Robinson Plays Clarinet for Avant Garde Tykes.
Jun 29 '05

The Bottom Line: Interesting date, avant garde clarinet. ***1/2

The clarinet was a popular instrument in the early history of jazz and in the swing era, when bandleaders like Artie Shaw and Benny Goodman famously played it. It has fallen pretty much by the wayside since then. So Perry Robinson is somewhat exceptional as a present-day clarinetist, and a fairly avant garde one at that. Children's Song is live recording.........mehr
ALLABOUTJAZZ - New York January 2006
by Andrey Henkin
In mathematics, there are three basic types of triangles: scalene (no congruent sides), isosceles (two congruent sides) and equilateral (all sides congruent). If the trio of clarinetist Perry Robinson, bassist Ed
Schuller and drummer Ernst Bier became the subject of a mathematical paper, they would create a new type of triangle, one whose congruency of sides is not fixed but instead changes throughout time..........mehr
Neue Zeitschrift für Musik Februar 2006
by Christoph Wagner
Nach dem Tod von John Carter 1991 gilt Perry Robinson neben Joe
Maneri als die Autorität der Klarinette im neuen Jazz. Robinson hat dem Instrument, das normalerweise mit dem Swing von Benny Goodman in Verbindung gebracht wird, die Tür zur freien Improvisation geöffnet. Er entwickelte eine ganz eigene Spielweise, die Wärme, Fantasie und Kühnheit mit einem individuellen Ton verbindet. Seit Jahren arbeitet Robinson mit dem Schlagzeuger Ernst Bier und dem Kontrabassisten Ed Schuller zusammen.
Sie haben einen Stil entwickelt, der sich auf wunderbar lose Weise zwischen freien Ausflügen und Improvisationen über vorgegebenes Material bewegt. Die Trio-Formation ohne Akkordinstrument bietet jedem Instrumentalisten genügend Raum zur Entfaltung, ohne dass dabei die Transparenz des Ensembleklangs verloren geht, der immer leicht, luftig und durchsichtig bleibt. Manchmal erzeugen die drei mit Obertönen und Überblaseffekten fast sphärische Klanggebilde, um kurz darauf wieder fester zuzupacken. Dann führt Robinson die Band mit einem fetten Klarinettenton an, der an die Ausgelassenheit einer Dixieland-Kapelle erinnert, während Ernst Bier mit einer Marimba afrikanische Klangfarben ins Spiel bringt.
Als Pluspunkt des Live-Mitschnitts muss die Spontanität und entspannte Atmosphäre gewertet werden. Gelegentliche Längen und Durchhänger hätte man bei einer Studioaufnahme vermeiden können.