There is much going on this wonderful CD. I love the chordal writing for the horns. The fabulous, advanced and technically correct solo lines over the vertical harmonic structure are absolutely amazing... [more]
Cover: Chris Hinze/Herbert Weisrock
Matthias Schubert – tenorsax
Regis Molina – altosax, baritonsax, flute
Gerhard Gschlößl – trombone, sousaphone
Kelvin Sholar – piano
Jonathan Robinson – bass, banjo
Ernst Bier – drums
1.
Unity6

K.Sholar

5:02
2.

In Time Out

E.Schuller

4:38
3.

Variationen über Thema Jazz

a. Plyczki Rag
b. Count Basic
c. Piep Pop

M.Schubert

12:24
4.
Lilting Banshee
J.Robinson
5:36
5.
Rot

M.Schubert

8:14
6.
Drei

G.Gschlößl

5:33
7.
EinWeinFrei

G.Gschlößl

7:58
8.

Crimson Hexagon

K.Sholar

5:21

9.

The Tree of Life

R.Molina

7:26
Produced by Ernst Bier
Co-produced for Kulturradio rbb Berlin by Ulf Drechsel
Recorded at: Saal 2, rbb Berlin June 24th -26th 2012 by
Wolfgang Hoff (soundsupervisor); Peter Avar (soundengineer)
Anne-Kristin Sölter, Klaus Krüger, Jörg Riemer (assistents)
Mixed and mastered by Peter Avar, Wolfgang Hoff,
Anne-Kristin Sölter
Executive producer: Ulli Blobel
Booklet editor: Peter Reich
Photos: Lothar Fitzek
Design: Herbert Weisrock
Design concept by wppt kommunikation GmbH
Ernst Bier plays Pommerenke Drums - www.schlagzeugbetreuung.de
listen to and order this CD at
---
Unity6 - Rot
There is much going on this wonderful CD. I love the chordal writing for the horns. The fabulous, advanced and technically correct solo lines over the vertical harmonic structure are absolutely amazing. Beautiful and interesting melodic lines come constantly. Throughout the horizontal harmonic movement in 2, 4, and 8 bar units define atonality clearly, and the floating, not about to land anytime soon feeling of atonality persists, though the lines are clearly harmonic in their individual bars and phrase segments. This wonderful CD shows the beauty and kind gentleness that can be found in atonality. The precision and beauty of the players in this regard overwhelms me and no one forces their tones. The drums are a constant contribution to this sensitivity.
Unity6 by Kelvin Sholar
It is so beautiful tears almost well up. Fabulous post Gill Evans voicings emerges with beautiful bass and piano solos
In Time Out by Ed Schuller
It is freestyle until all of a sudden someone passes out parts and everyone starts reading -- ha, --- they knew that was going to happen! (They must have known that was coming because the improvisations contained the same clever material.)
Variationen über Thema Jazz by Matthias Schubert
This is the only piece with harmonic resolution formally and harmonically, which is avoided by that atonality in the other pieces. Variationen is amazing in its perfect "good time" feel from the 1920's with lots of beautiful modern surprises. It's is if a modern harmonist took a real recording from the 20's and changed some of the pitches and left everything else as it was.
Lilting Banshee by Jonathan Robinson
The opening theme is intoned beautifully by the bass and is then augmented by the great harmonies. Next is a commanding bari sax solo followed by a clarity based tenor solo.
Rot by Matthias Schubert
This is more of the same old beauty --- with a strong groove, and a sly grin.
Drei by Gerhard Gschlößl
Incredibly clean playing on triplet passages exchanging with more swing.
EinWeinFrei by Gerhard Gschlößl
The piano and drums leave me breathless, like people talking fast about profound things that you can catch - but barely. The bass and drums generate forceful waves of energy. Then everyone talks really fast, perhaps they had a few drinks and got argumentative? Finally they resolve it.
Crimson Hexagon by Kelvin Sholar
In the bag of the Wayne Shorter period with Art Blakey but not a copy, a similar design but made from a different material – beautiful!
The Tree of Life by Regis Molina
Look out! Here comes Eve and, Oh, Oh--- I see something moving in the grass behind her----
How wonderful these musicians play and write. People like this could save the human race.
N H Derwyn Holder, Dec, 2012
Unity6
Diversity is a Berlin phenomenon; age, nationality; culture, etc., are no longer relevant. Participating in this multiplicity is Unity6, an inter - national band with several generations of highly active jazz musicians in Berlin - united by drummer Ernst Bier.
Photo: Mehmet Dedeoglu
The high-profile ensemble, consisting of a Cuban, two Americans and three Germans reflects the diversity of the Berlin jazz scene. They met for the first time at the Berlin Jazz club, A-Trane, and despite their different roots, they harmonized immediately.
The music of Unity6 features compositions created by the band members. Through their unique way of playing, it is both contemporary and celebratory of the diversity of jazz styles.
Dear listener, we have common musical goals - so, get infected by the energetic freshness and playful mood of this band!
In November 2012 in the studios of the rbb radio station (Rundfunk Berlin-Brandenburg), we recorded our first CD entitled 'ROT' ( 'red' in German). It's now out on the renowned record label, jazzwerkstatt.
---
Ernst Bier - drums
a former student of master drummers Billy Brooks, Charlie Persip, Vernell Fournier, and Elvin Jones. His drumming has been lauded for its "high level of sensitivity, self-abandon and invention."
The Magazine, Bonner Rundschau, highlighted his "musicality and scintillating play." Like many European jazz musicians, Bier felt the magnetic pull of jazz's 'Mecca', and so, in 1982 he turned up on the New York scene where he would remain until 1987.
Since returning to Europe, Ernst has toured extensively, working on and in a number of different projects. Looking for the liveliest music scene he could find, Bier settled in Berlin. His continuing series of workshops keeps Ernst in contact with the fundamentals: for young musicians the "Living School Workshop" has developed into an institution.
Gerhard Gschlößl - trombone
a new, innovative trombonist of the European contemporary jazz, avant-garde and improvised music scenes. He grew up in southern Germany where he studied trombone and composition. Living in Berlin since 2004, he toured with many groups like "Vierergruppe Gschlößl" and "Der Moment". Collaborations with musicians like Albert Mangelsdorff, Sam Rivers, Michael Mantler, Perry Robinson, Billy Hart, Rudi Mahall, Danilo Gallo a.m.o.. He has brought out several distinguished recordings while also founding the musicians collective, "Jazz Kollektiv Berlin", and the famous nonet, "G9-Gipfel, Berlin".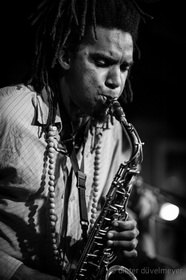 Regis Molina - altosax, flute, barisax
a promising composer and improviser from Havana, Cuba, who currently resides in Berlin. He adopts in his music styles, Afrocuban music through to modern Jazz. Although he has not released any albums as a leader, he is an active member of the music community in Berlin. He is known for his extraordinary energy, and his lyrical playing with breathtaking technique. He has shared the stage with many great musicians including Chucho Valdés, Estrellas del Buena Vista Social Club, Duquende, Jeff "Tain" Watts, Aloe Blacc, Till Brönner, Birelli Lagrene, Jimmy Tenor, Tony Allen, Jean-Paul Bourelly and Ojos de Brujo, among others.
Matthias Schubert - tenorsax
one of the leading German saxophone players. If you've ever seen him on stage, you'll hardly forget his performance! His extremely powerful playing, the richness of ideas in his improvisations, and his inspired compositions give him a prime position in Jazz.
Matthias studied in Bern, Switzerland with Andy Scherer and in Hamburg with Herb Geller and Walter Norris. In 1995 he received the renowned Jazz award of the "Südwestfunk". Since 2001 he has been teaching at the music department of the university of Hannover. Matthias Schubert is predominantly involved in the playing, composing and recording of contemporary and improvised music. His is a formidable presence - on stages all around the world - and now on more then 60 CDs.

Kelvin Sholar - piano
has performed on piano, keyboards and electronics for several international television and radio shows; he has written for films, and had his music featured on prime-time American television; he has been interviewed and filmed by iconic American director Spike Lee. He has performed, collaborated and recorded with many of the greatest artists in the world from improvising on the piano with the New York City Ballet to recording on Fender Rhodes, organ and synthesizer with Qtip; from arranging and conducting a live orchestra with Carl Craig's Innerzone to singing live with Stevie Wonder before thousands. Kelvin has also recorded and performed extensively in top-level festivals and musical venues in major cities all over the world, as leader of his own ensemble and as a sideman. He has received over 10 musical awards and given music master classes in many international schools.
Jonathan Robinson - bass
with his strongly expressive bass playing, Jonathan Robinson has enriched already countless albums and bands. He has performed with many artists including Jerry Bergonzi, Gerald Cleaver, Bob Moses, Greg Burk, Matt Maneri, Archie Shepp, George Garzone, Rick Margitza, Steve McCraven, Jeff "Tain" Watts, John Tchicai, Fabio Morgera, and David Gilmore. He studied music with multi-instrumentalist Yusef Lateef and iconic jazz-saxophonist Archie Shepp. Jonathan currently resides in Berlin, performing regularly with Kelvin Sholar, Carl Craig, Ignaz Dinne, Kurt Rosenwinkel, Fat Dragon, For Free Hands, Greg Burk Trio and many more. His debut recording as a leader, Spatial Stasis, features his original music for quintet. It was released by jazzwerkstatt Berlin-Brandenburg in 2009.
"Jonathan Robinson, a bassist with a big sound who is as capable of melodic arco work as he is of swinging hard," John Kelman, All About Jazz.
Photos: Mehmet Dedeoglu